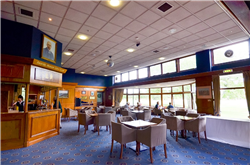 After your game, join us in the Clubhouse for a drink, a meal or bar snack and take a seat on the patio in the summer and watch the end of a day's golf looking at the wonderful parkland vistas and its many specimen trees.

Whilst the most memorable thing about a day out golfing with friends should naturally be the course, the second most important must surely be the food. Having given you a great golf course to remember, now let us offer you some truly good food and the hospitality of our friendly clubhouse. Our talented team in the kitchen will be happy to satisfy those healthy appetites.

Choose from our varied menu selection or if you have any special requirements our Chef will be pleased to discuss them with you.

Bar Lounge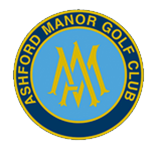 We have several rooms for you to chose from where you can relax after your golf or just pop by and meet up with friends for a coffee or glass of wine.

The bar lounge is located in the middle of the Clubhouse and provides a light and airy atmosphere with a bay window providing views out onto the golf course.

The lounge also opens out onto our large patio area, which in the summer is a favourite for members, guests, and visitors to enjoy the sunshine and we even fire up the BBQ on some days too.
Dining Room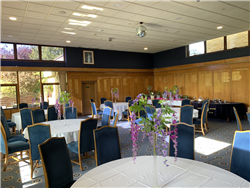 The dining room at Ashford Manor is located just off the main lounge. This room will sit approx. 60 guests for a sit down meal but also has the flexibility of opening up into the Bar Lounge to create a bigger space.

Natural light will pour into this room providing members, guests, and visitors with a lovely view out on the golf course.

Members and their guests enjoy using this room when meeting for lunch or even for a quick business meeting before golf.
The Harold Hilton Bar (Spike Bar)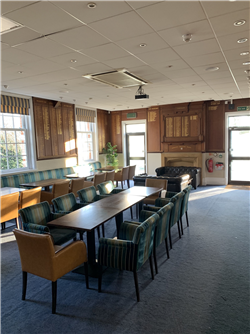 The Harold Hilton Bar is our spike bar, which as the name suggests enables members, guests, and visitors to come in and use this room with their golf shoes on.

Smaller than the lounge and dining room the spike bar is always a favourite at the weekend when the sport is on as the projector screen is pulled down and there is plenty of live sport to enjoy.

The 8th green is located just outside the Clubhouse so this bar provides the perfect stop off point for a quick coffee and bacon sandwich before playing the back nine.
Sunday Lunch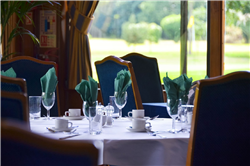 From October 2022 to April 2023, We will be offering again our traditional Sunday Lunch twice a month until Mid April 2023.

We are now taking bookings for Sunday 5th & Sunday 19th February and Sunday 5th & 26th March .

It is open to members and non members and bookings can be made with the front of house team on 01784 424644.

The dining room at Ashford Manor Golf Club offers a wonderful vista out over the course where you can enjoy a delicious 2 or 3 course Sunday Lunch, we offer one service for Sunday Lunch from 1pm.

2 Courses are £22.50 per person and 3 Courses £27.50 per person.



Also we are offering

Mothering Sunday
Sunday 19th March
1pm
Menu to follow
2 course £28.00 per person
3 course £33.00 per person

Includes present for every mum attending

More details to follow re menu and booking

All year round, we also take private group bookings in advance for Sunday Lunch if you have a family celebration and wish to book for between 20 to 40 guests. Call the office on 01784 424644 for more details.

Friday Night is Club Night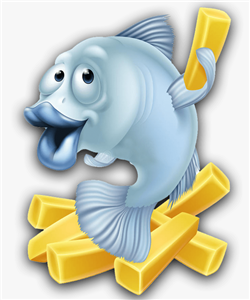 Every Friday evening at Ashford Manor Golf Club the kitchen is open 6pm until 8pm. Traditionally Friday is Fish Night when we put on a fish special for members and non members to enjoy. In addition to a fish dish the team will also put on a chefs special.

Booking is strongly advised and can be made in advance with the front of house team on 01784 424644.